Past Event On March 18, 2023
John Lithgow
The World According to Lithgow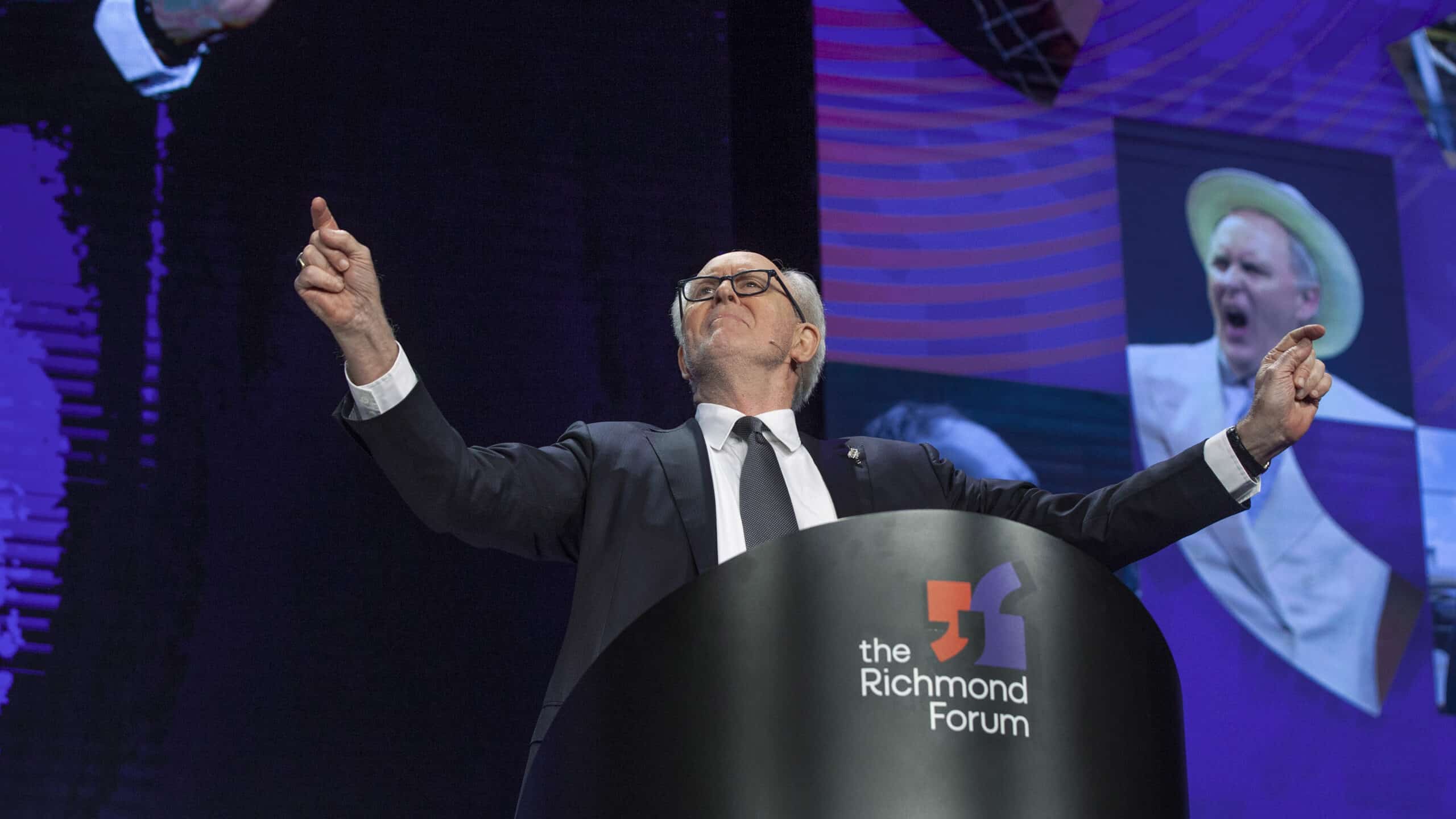 "My public school education formed me and I have devoted my life to the creative arts–that is if you consider an actor to be an artist. I would be the first to admit it is often a hard argument to make."

John Lithgow
THE WORLD ACCORDING TO LITHGOW
PROGRAM DATE: MARCH 18, 2023
The red carpet was rolled out–quite literally–for John Lithgow's program, "The World According to Lithgow," at The Richmond Forum on March 18, 2023. After making a Hollywood entrance into the Altria Theater, Forum subscribers were delighted with "a breezy, offhand version of [the prolific actor's] own history," largely centered around his personal experience with, and advocacy for, arts education.
This engagement at The Forum was the first time Lithgow set foot in Richmond, Virginia, but it wasn't his first time getting to know the capital city. In 1976, Lithgow starred alongside Meryl Streep in a production of William Gillette's Richmond-set play, "Secret Service," as part of a Broadway festival celebrating America's bicentennial. "The play's suspense was derived from the fact that Captain Thorne–my role–was, in fact, a spy for the Union. When I received an invitation to deliver tonight's speech, a tiny, irrational part of me felt a rush of relief: All is forgiven! The citizens of Richmond have welcomed me back!"
Lithgow dove into his early childhood years on the road with his thespian family, noting, "From as far back as I could remember, I wanted to be an artist." In the late 1950s, the Akron, Ohio public school district where Lithgow spent his ninth and 10th-grade years invested heavily in arts education. He began every day by exploring a wide range of visual media in his studio arts elective–an experience he credits with developing his keen social and intellectual skills. "There is no doubt in my mind that my arts education made me a far better student."
After those mornings in the classrooms of his beloved teachers, Jane Thomas and Fran Robinson, Lithgow's enthusiasm for the arts continued to grow throughout college and his decades-long acting career. His desire to share his love of the arts with his own kids turned into a series of children's albums, books, and live concerts. In the past ten years, that series has developed into "ardent and serious-minded public [advocacy] for arts in education."
In 2018, Lithgow joined and began serving as co-chair of the American Academy of Arts and Sciences' Commission on the Arts. He highlighted the work of the Commission and it's significant impact on funding arts education in California's public schools. Lithgow added that he urged his fellow Commissioners to "plot ways to make an impact, make a difference, make a scene, put on a show, attract attention," and, after much prodding, a new avenue for advocacy was born.
In front of the captive Forum audience, Lithgow announced "Art Happens Here," a one-hour PBS documentary coming soon to Southern California public television. The show follows Lithgow as he steps out of his comfort zone and back into the classroom to try his hand at ceramics, screen-printing, cultural dance, and vocal jazz. He is hopeful that the program will eventually air on PBS stations across the country and will "nudge the nation towards a commitment to all the visual and performing arts in public education."
Lithgow gave a final "thank you" to arts educators everywhere–including Mrs. Thomas and Ms. Robinson–for enhancing students' creativity, love of learning, empathy, sense of identity, and joy. In an act of true showmanship, Lithgow invited the audience to channel their inner children as he concluded his speech with a rousing musical rendition of his 2013 picture book "Never Play Music Right Next to the Zoo." Enhancing joy, indeed.
John Lithgow was then joined on stage by local actor and director Scott Wichmann, who asked the visiting speaker questions from the audience. Many of the voices from Lithgow's iconic roles, including Winston Churchill and Lord Farquaad, also made appearances. Highlights from their lively conversation include:
Lithgow considers acting in "M. Butterfly" to have been his most daring leap of faith. Playwright David Henry Hwang "spun this extraordinary fable about the West's misperceptions of the East, men's misperception of women, our entanglement with Vietnam," he said. "It was the most extraordinary intersection of ideas and emotion."
In seeming contradiction to his job description as an actor, Lithgow said the most memorable piece of advice he ever received from a director was, "Do it again, but this time with no acting."
Like many members of the audience, Lithgow found new creative outlets to keep him occupied during the COVID-19 lockdown. During this time, he took several voice acting jobs, which he recorded in his bed, under a blanket. He also wrote and illustrated two installments of his "Dumpty" political satire series. He had flexed his drawing skills earlier in the evening by showing off a sketch he made of himself sitting atop the Altria Theater, which the Forum to auction off at a future date.
A high school speech and debate alumni, Lithgow believes, like the arts, these activities help students gain a sense of power and identity.
Lithgow believes that all students, not just those seeking to pursue a career in the arts, benefit from arts education. "The arts and the humanities make people into more curious, more empathetic human beings."
In a final question, Wichmann asked Lithgow if there was a question he wished he would have been asked while on the Forum stage. Lithgow answered that he loves to talk about his family, specifically his wife, Mary. "I would be so disoriented without that woman."
Read additional coverage from the Richmond Times-Dispatch.
Read a post-program interview with Lithgow from Style Weekly.
"What a joy to hear from a presenter who was so enthusiastic to participate, who took the time to create a work of art specific to our event, who went out of his way to call out by name the people who assisted him yesterday. And he wrapped it all around a very serious topic: the importance of art in education. And it was wonderful to see so many in the audience, attending in person."

– Subscriber Comment
About John Lithgow
John Lithgow is a raconteur with a wide-ranging and towering talent. Lithgow has made an indelible impression on audiences through his work in film, television, and theater, and has advocated tirelessly for the creative arts. He is the winner of two Tony Awards, six Emmys, and three SAG Awards, and has twice been nominated for an Oscar.
Audiences from Richmond and beyond know Lithgow from his delightful performances across stage and screen. He has appeared in countless critically acclaimed films, such as "All That Jazz," "The World According to Garp," "Terms of Endearment," and "Bombshell." This past February, he co-starred with Julianne Moore in the AppleTV+ psychological thriller, "Sharper." Lithgow is also among the star-studded cast of Martin Scorsese's upcoming "Killers of the Flower Moon," set for release later this year.
Lithgow has starred in the hit television shows "3rd Rock from the Sun," "Dexter," "The Crown," and "Perry Mason." He currently stars alongside Jeff Bridges in "The Old Man" on FX and Hulu. He has appeared on Broadway 25 times, including "The Changing Room," "M. Butterfly," "Requiem for a Heavyweight," "Dirty Rotten Scoundrels," and "The Sweet Smell of Success."
Lithgow's creative work extends beyond his acting chops. He has written several best-selling children's picture books, as well as a 2011 memoir "Drama: An Actor's Education." Since 2019, he has written and illustrated the political satire "Dumpty Trilogy," which landed Lithgow on The New York Times Nonfiction Best Seller list for three consecutive years.
Having recently completed his term as co-chair of the Commission on the Arts of the American Academy of Arts and Sciences, Lithgow continues to advocate on behalf of arts in education and the livelihood of America's creative workforce.