The Richmond Forum, America's largest nonprofit speakers series, announced today that it has launched a new logo ahead of the organization's 37th season.
The Forum's bold, refreshed look reflects the energy and viewpoint diversity of its speakers, and represents its commitment to elevating public discourse throughout the Richmond region.
"At The Richmond Forum, we are united in the belief that by speaking, listening, learning, and honestly engaging, we can empower and strengthen our community," said Heather Crislip, executive director of The Richmond Forum. "The conversations that begin on the Forum stage echo throughout the community. We are at the forefront of public discourse in the region and can be a model for the nation. Our visual identity needs to reflect that."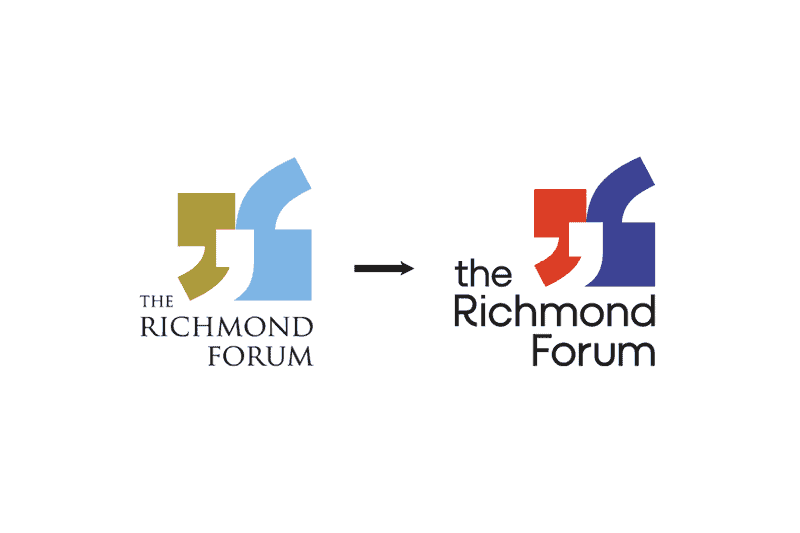 Since its founding in 1987, The Richmond Forum has offered hundreds of highly sought-after speaking engagements with some of the most influential names in the world, including former President Obama, Tina Fey, Neil DeGrasse Tyson, and many more.
"We have a refreshing series of programs ahead of us, so it is the perfect time to freshen up The Forum's look and feel," said Heather Crislip, executive director. "Our iconic quote marks are now paired with bold colors and an elevated, yet accessible, style. There are a few more surprises this season and we can't wait for our audience to enjoy them."
The Richmond Forum worked with EVERGIB and Karnes Coffey to create the updated visual identity, which consists of a refreshed logo and new colors, fonts, and graphic elements. The new look comes just in time for the launch of the 2022-2023 season on November 12 with former White House National Security Advisor H.R. McMaster's program, "The State of Play: Geopolitical Actions, Reactions, and Consequences."
All season programs are available for streaming with an online subscription.